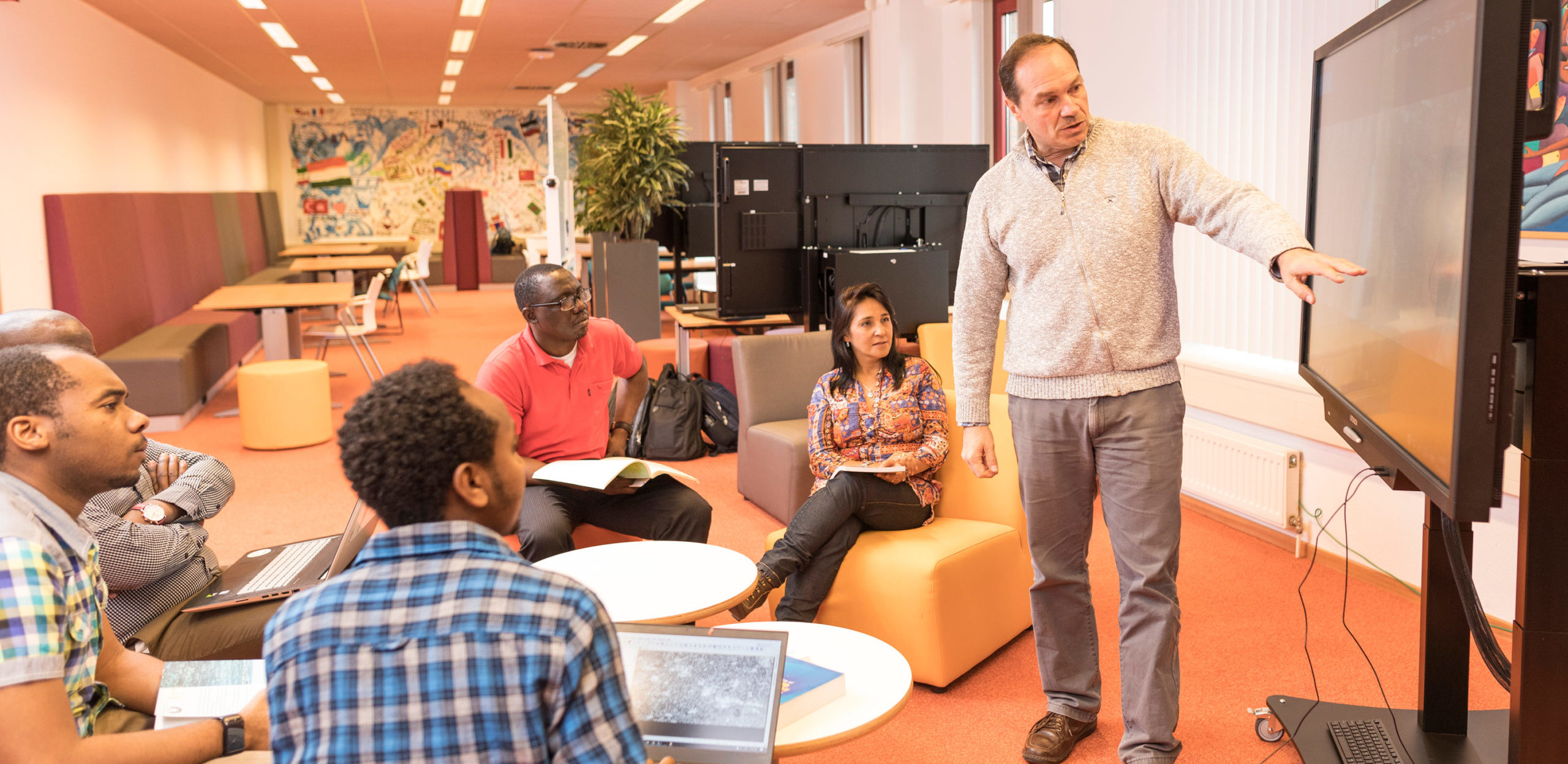 The Faculty of Geo-Information Science and Earth Observation (ITC) at the University of Twente provides international postgraduate education, research and project services in the field of geo-information science and earth observation using remote sensing and geographic information systems (GIS).
Solving real-world problems
The use of geo-information is rapidly growing worldwide. Geographical information systems and remote sensing tools are indispensable in solving real-world problems and complex issues concerning health care, food security, climate, water, urban planning, security and land scarcity.
Societal challenges
These societal challenges require extensive exploration of new opportunities and applications of modern technology, as well as well-trained professionals with a strong affinity with technology and systems. Creative thinkers who are inspired by large-scale, complex challenges and willing and able to look beyond the obvious solution.
The values that drive us are:
Societal impact: making a real difference

Synergy: excellence in combinations

Entrepreneurship and innovation

Internationalisation: tomorrow's global citizens
Capacity building and institutional development
Since its inception in 1950, ITC has developed a broad global network of partners, and continues to actively pursue and elaborate its international partnerships within ITC's knowledge domains. At the heart of ITC's activities lies capacity building and institutional development, the processes by which individuals, groups and organisations strengthen their ability to carry out their functions and pursue their goals effectively and efficiently.
Application-oriented education
The education ITC offers is based on knowledge exchange between organisations and students from developing countries on the one hand and in the Western world on the other, whereby ITC acts as a two-directional gateway for knowledge exchange. ITC takes an application-oriented approach, directed at finding solutions for and strengthening civil society in addressing issues of local, national and global dimensions.
At ITC some 250 students from 90+ different nationalities from all over the world study at ITC in Enschede in one of the two Master's programmes, Geoinformation Science and Earth Observation and Spatial Engineering, or one of the diploma and certificate courses in geo-information science and earth observation.
ITC a leading research entity in geospatial sciences
ITC aims to continue to be an internationally recognised leading research entity in geospatial sciences, with an emphasis on geo-information science and earth observation. ITC maintains its focus on fundamental and problem-solving research, with an eye for those complex global challenges where spatial information can make a real difference.
ITC alumni a worldwide community
ITC alumni belong to a worldwide community of over 20,000 individuals, who together form an extensive network of international contacts, that includes United Nations organisations, universities, research groups, resources survey and map production services, and various global professional associations. ITC seeks sustainable/lasting collaborations with these alumni, their countries, and partner institutions.
Collaboration with fellow SAIL institutes
ITC has been a member of SAIL since its inception, and it continues to value the exchanges with its fellow SAIL institutes on the educational programmes offered and research projects carried out. ITC believes that collaborations between the different SAIL institutes will lead to better research and development outcomes. Therefore it sees the challenge to continue to seek collaborations with the other SAIL institutes. Although most of the institutes have become integrated with Dutch universities, ITC aims to look for opportunities to collaborate with other SAIL institutes, to strengthen its international capacity-building and research work.
Image: copyright © Faculty of Geo-information and Earth Observation