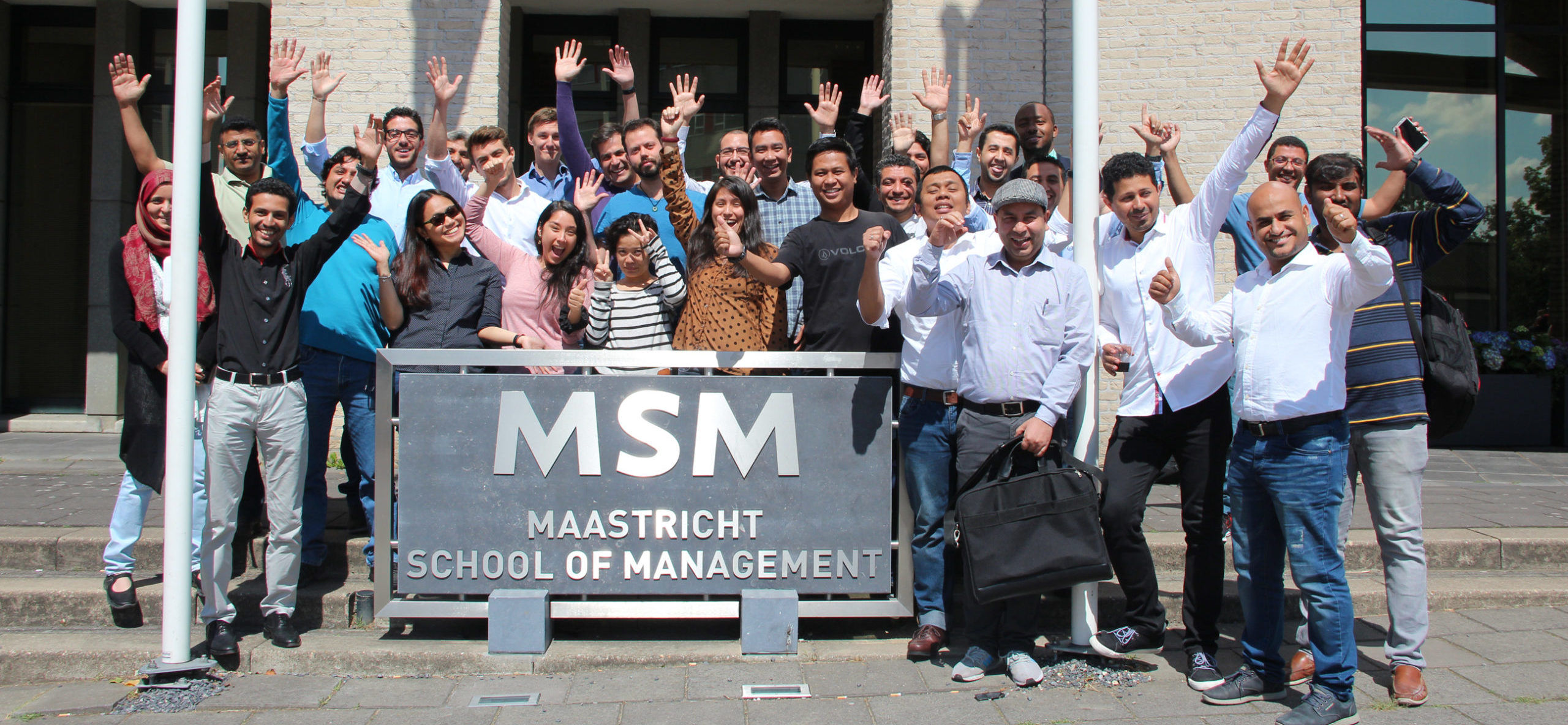 Maastricht School of Management (MSM) is part of Maastricht University School of Business and Economics (SBE) and has a successful track record of more than 70 years in international development. MSM is a unique institute with a firm commitment to both development and education, offering management education on a global scale and providing capacity-building solutions for a multitude of clients worldwide.
Being the only institute with such a firm commitment to both management development and management education makes MSM unique in the world. Moreover, MSM is a globally networked organization, with educational partners in more than 50 countries around the world. 
It is MSM's mission to contribute to sustainable local economic development by building a knowledge ecosystem. This is achieved by the creation of durable and sustainable relationships between developed markets and emerging economies, and through the exchange of management knowledge and learning within the context of global responsibility.
International management education
MSM's international management education programs are conducted both in Maastricht and globally.
In Maastricht, MSM offers a range of Master in Management and MBA degree programs, short executive courses and summer school courses. Attracting students from around the world, these programs contribute in bridging cultures, countries and continents.
In addition, MSM offers its degree programs through longstanding partnerships in Africa, Asia, Europe, Middle East, North America and Latin America, guaranteeing transfer of knowledge throughout the world.
MSM has a worldwide network of more than 20,000 alumni with active alumni chapters in 30 countries. Active relationships with our alumni base are nurtured through various alumni events.
International management development
MSM's international management development activities are centered around three areas: capacity building & consultancy, custom made training and applied research.
MSM provides capacity-building solutions to managers and professionals from government, the private sector, NGO's and post-secondary education institutes in Europe, Africa, Asia, Middle East and Latin America. MSM strongly promotes the triple helix approach in working with academia, business and government. Capacity-building solutions are provided at individual, organizational and institutional level and in key sectors like education, agriculture, water and health, all with the concerted goal to enhance sustainable economic development.
MSM also offers custom-made training programs to support client organizations with a flexible program design and implementation, fully tailored to the specific needs of each organization.
To support its capacity-building solutions and education programs, MSM carries out applied research in areas such as inclusive economic development, leadership and management, labor market needs, employment, value chain and cluster development, innovation and entrepreneurship. This research is conducted in partnership with local and international research institutions.
Contributing to the Sustainable Development Goals
Sustainable development, business ethics, corporate social responsibility and responsible management have been in MSM's core DNA since its inception. As such, MSM strives to contribute to the Sustainable Development Goals (SDG's) in all its activities: the international capacity-building programs, the custom made programs, research activities and in its education programs. In this light MSM values the societal relevance of the diverse expertise and focus areas of the different SAIL institutes. With its unique entity of being a management and business school, MSM brings relevant expertise of the private sector to collaborations and exchanges within the SAIL platform.
Image: copyright © Maastricht School of Management